Creativity is medicine; it's an inherent part of who we are as human beings, and through us,
creativity longs to manifest via our visions, voices and stories for us and the world.
This workshop leverages tools in expressive healing arts, decolonization & resurgence wisdom, inspirational literature study, trauma-informed mindfulness and meditation, affirmation, and loving community sharing.
This workshop is for "womxn", which to us means those who are 18+ years old and identify as women, womxn, womyn or femme.
---
This experience includes:
3 hours of interactive, informative and inspiring workshop

Education on indigenous and decolonial perspectives on creativity, colonial barriers to creativity, and body wisdom

Creative guidance for meditation, expressive arts, play and connection

Hands-on practice with useful tools

Space to be in affirming community
You'll walk away with:
Tangible, practical and enjoyable practices for self-awareness + creative empowerment

Additional post-workshop resources to expand and deepen the expression

New creative connections
---
Agenda
The living agenda for the workshop looks like:
Introduction + intentions

Check-ins

Education/presentation

Guided meditation/Visualization

Expressive arts practice in pairs or small groups

Discussion

Movement or sound healing experience
---
Investment
This series is offered on a sliding scale from $33 - $55
(on a first come, first serve basis)
If the available rates are not feasible for you, please reach out to us with what you are able to invest/contribute. We have a number of partial scholarship available.
Reclaiming Creativity: A Workshop for Womxn
from 33.00
---
Your Facilitator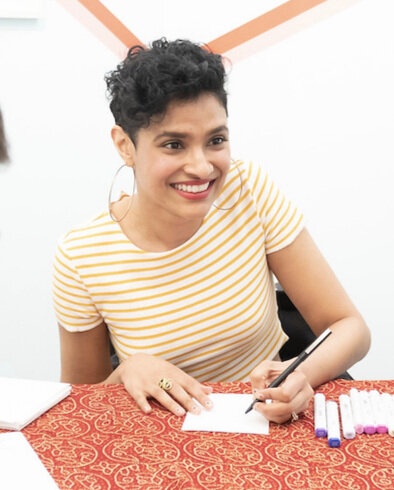 Peace creatrix,
This workshop was birthed from the 3-month Abundant Creativity Program (which starts again in January 2021) as a more accessible offering in regards to time and cash investment.
We took some of the most potent pieces of wisdom from the 3-month program and included it in this interactive workshop as both a juicy appetizer and a jump (re)start to this work of decolonizing creativity.
I'm excited to offer this as a lot can percolate from even 3 hours of reflection, play and sharing together!
Hope to see you,
Chetna
---
Testimonials
"I whole-heartedly recommend this workshop to womyn of all backgrounds. It will help you discover yourself in powerful ways and integrate that power in the rest of your day to day life. "
- Steph
"Working with Chetna allowed me to access the powerful tool of self-compassion to redefine my relationship with my inner critic. This redefinition has completely helped me transform my creative approach, allowing me to truly show up for myself and my writing practice. "
- Leticia