Research has proven that self-compassion serves as a buffer not only to depression and anxiety,
but also to dissatisfaction and stress during difficult transitions and situations.
It's also been shown that self-compassion is intrinsically motivating; self-kindness and mindfulness, which are important aspects of mindful self-compassion, promote proactivity and empowered action.
This workshop series leverages this evidence along with a disciplined practice toward self-care;
sharing skills and tools to bring all this goodness more into your daily life,
especially during these collective times of deep uncertainty and crisis.
This series is for "womxn", which to us means those who are 18+ years old and identify as women, womxn, womyn or femme.
---
This experience includes:
7.5 hours of interactive, informative and inspiring workshop

Education on the psychology, motivation and impact of mindful compassion

Creative guidance for expressive arts, play and connection

Hands-on practice with useful tools

Sound healing for deep soothing + energizing, featuring phenomenal sound artistry

Entrance into a raffle for a care-package of sensory, self-care products from wellness + womxn-owned businesses
You'll walk away with:
Tangible, practical and enjoyable practices for self-awareness + empowerment

Additional post-workshop resources to expand and deepen the wisdom

Community and new compassionate connections
---
Schedule + Agenda
We'll meet during the following times:
Tuesday, September 8th from 6pm - 8:30pm MST / 8pm - 10:30pm EST

Tuesday, September 15th from 6pm - 8:30pm MST / 8pm - 10:30pm EST

Tuesday, September 22nd from 6pm - 8:30pm MST / 8pm - 10:30pm EST
The living agenda for each meeting looks like:
Introduction + intentions

Check-ins

Education/presentation

Guided meditation/Visualization

Expressive arts practice in pairs or small groups

Discussion

Movement or sound healing experience
---
Featured Sound Artist
Jo-Jo Jackson
Jo-Jo Jackson, aka "The Yogi Bassist," is a Yoga Teacher, Ayurvedic Counselor & Sound Practitioner. Her aim is to move students—& herself—on the path of self-inquiry in order to discover their highest Truth, & she encourages students to seek liberation from what is holding us back.

At a young age Jo-Jo started developing a relationship with music as her main creative outlet. Over years of practicing yoga & playing music, a natural merging of these two systems developed. Just as humans have been practicing yoga for thousands of years, people have been playing music for just as long.
While the yogi musician is not necessarily anything new, Jo-Jo's unique experience to approaching sound from an energetic standpoint is what drives her passion for the free expression of divine Love through sound: Bhakti Yoga & Nada Yoga.
Find more at TheYogiBassist.com and on IG @yogibassist
Investment
This series is offered on a sliding scale from $87 - $107
(on a first come, first serve basis)
If the available sliding scale rates are not feasible for you, feel free to reach out to us.
We have a number of scholarship spaces open.
Mindful Compassion Workshop Series (September)
from 87.00
---
Your Facilitator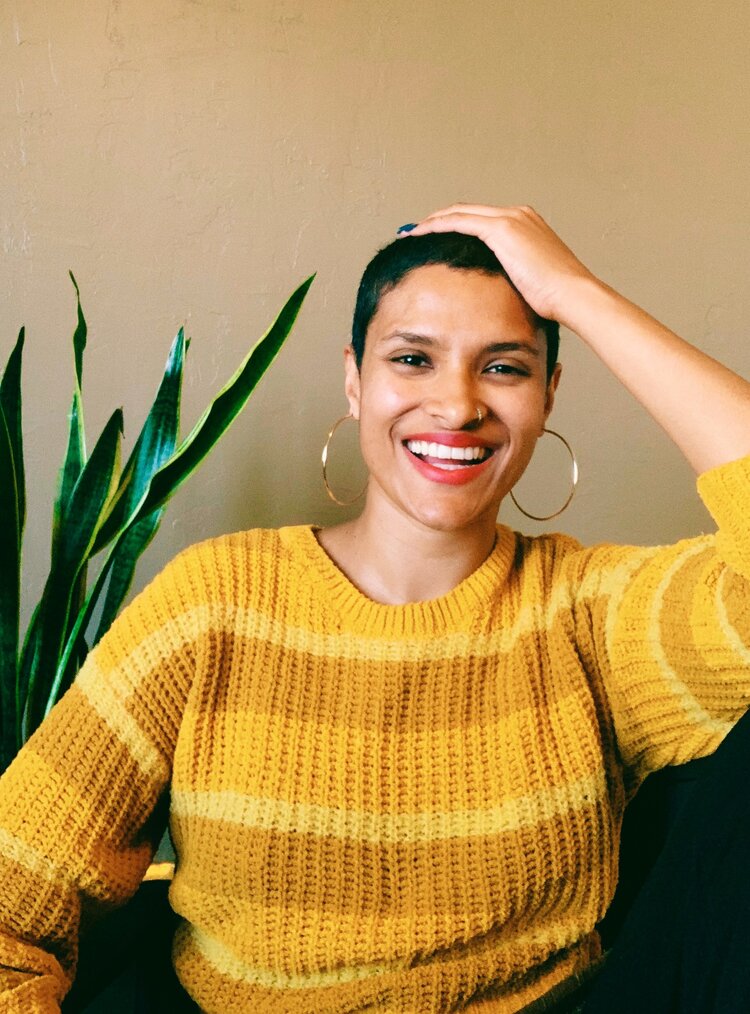 Peace people,
There are sooo many digital offerings during this time… though my intention here is to offer a resource that may be of service to deepen our compassion for ourselves and others in some really difficult times.
Given the demand of this series thus far, we're offering this series in September on a different day.
Leveraging my training and experience in Mindful Self-Compassion, counseling psychology, mixed media art and group facilitation, i'm grateful to bring this potent version to you, wherever you are, in collaboration with some phenomenal sound artists and healers.
Hope to see you,
Chetna
---
Testimonials
"I recommend Chetna's workshops because they are healing, empathetic and moving. I'm walking away with a powerful energy, perspective and many tools to integrate and nourish self-compassion and discipline in my life. So much BIG LOVE + GRATITUDE for Chetna's wisdom, energy, brilliance, love and nourishing knowledge and practices." — Caitlin
"A beautiful, uplifting, deep + humbling experience. I am leaving feeling more supported and inspired to continue this very important work. Much love." — Anonymous

"Chetna is a master facilitator and holds space for everyone's humanness. I instantly felt welcomed and held in her space." — Paige
"I greatly enjoyed this experience of the Mindful Compassion workshops. It was an amazing feeling to have a space to discuss with a diversity of people the beautiful philosophy of compassion. I thank Chetna for creating this space and for her knowledge, guidance, and listening." — Anonymous

"This workshop was transformative to my understanding of compassion in both a cerebral & an embodied way.  In planting seeds to move from active-  to compassionate listening, Chetna's gift continues to grow in my life, and is enriching my relationship to both self & others.  Jo-Jo's sound healing also was nourishing & so beautiful." — Corey